Top Stories
Updated in real time
Please find the tentative interview schedule at goo.gl/IXOZeL This document is subject to change. Check it regularly.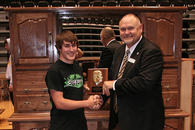 Students from Hoxie Junior /Senior High School displayed their projects in the Fort Hays State University Industrial Technology Fair April 28 and 29. These projects were judged on overall appearance, craftsmanship, construction, finish, and difficulty. They compete for awards given to the outstanding project of their class and category. For the fourth year in a row, . . .
Print-ready version
NOTICE: If you try to print the calendar from the "Calender" link above, you will not get a complete calendar. . . .