Top Stories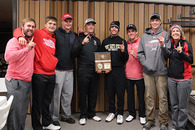 The Hoxie High School golf team took first place at the regional golf meet held at the Hoxie Golf Course on Monday, May 16. The team came out on top with a team score of 357. Top ten finishers for Hoxie were Dayde Mader, fourth place with an 84; and Colton Heskett, fifth place with an 87. Rounding out the top ten was Easton Slipke coming in with an 89 and a seventh place finish. Other scores for Hoxie were . . .
The Hoxie golf team won the league title in Sharon Springs with a team score of 348. Colton Heskett placed second with a score of 81. Dayde Made was a close second with 85. Jarrod Dible posted a 91 which earned him a seventh place finish. With a score of 91, Easton Slipke landed in the top ten with an eighth place finish. Luke Schippers came in with a 107 and Peyton Taylor 115 to round out the . . .
Print-ready version
NOTICE: If you try to print the calendar from the "Calender" link above, you will not get a complete calendar. . . .