Top Stories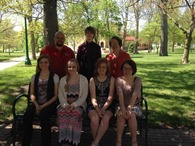 On April 2, selected students from the Hoxie High School choir and band travelled to the regional contest in Colby. Those that received a 1 rating qualified for the state contest held in Baldwin City on April 23. Sally Cameron was the piano accompanist that travelled with them. Once again, the students performed well with many 1 ratings; parents that travelled with the students had reason to be proud of Hoxie's music . . .
On Monday, May 2, 2016 , Hoxie High School will hold the All-School Art Show and Industrial Arts Show in the high school gym. Doors will be open at 6:30 pm for your viewing. Come and see the outcome of the student's work for this school year. Students in 7-12 th grade will also be performing in their Spring Concert starting at 7:00 pm .
Print-ready version
NOTICE: If you try to print the calendar from the "Calender" link above, you will not get a complete calendar. . . .