The Hoxie High School golf team placed 5th at the state golf tournament held at Spring Creek Golf Course on May 26 in Seneca, Kansas. Dayde Mader shot an 83 which earned him a 6th place medal in the individual standings. A team score of 385 earned a 5th place finish in the team standings. Congratulations to the Hoxie golfers!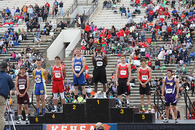 Hoxie High School track athletes picked up 8 medals at the state track meet held in Wichita on May 29-30. Senior, Carly Heim, picked up 4 medals in the triple jump, long jump, 100 meter and 200 meter events. Austin Reitcheck and Connor Katt won 2 medals each in the 100 and 200 meter races. Congratulations!! Meet . . .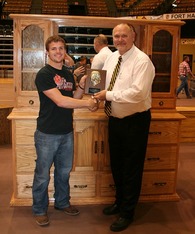 Students from Hoxie Junior/Senior High School displayed their woodworking projects in the Fort Hays State University Industrial Technology Fair April 30 and May 1. These projects were judged on overall appearance, craftsmanship, construction, finish, and difficulty. They compete for awards given to the . . .