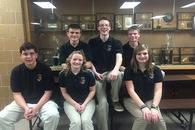 The Hoxie High School Scholars Bowl team traveled to Satanta for the Division I Regional Scholars Bowl Tournament on Feb. 2. The team consists of one senior Tabor Rucker, three juniors Skyler Denio, Connor Depenbusch, Noah Smith, and two sophomores Orlando Rivera and Darion Meyer. The team was looking to qualify for State Scholars Bowl. Only the top three teams would . . .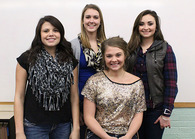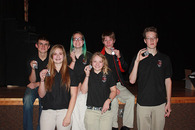 Hoxie High School took the varsity team to the Oberlin High School Scholars' Bowl Tournament on Tuesday, November 10, 2015. Hoxie's team consisted of Tabor Rucker, Noah Smith, Skyler Denio, Darion Meyer, Conner Depenbusch, and Myah Sorter. The team took 2nd place at the tournament. They were defeated by . . .
Current Highlights
Print-ready version
NOTICE: If you try to print the calendar from the "Calender" link above, you will not get a complete calendar. A printer-friendly version of the Hoxie Community Schools' Red Calendar can be downloaded here . It is a PDF. You will need a PDF reader such as Adobe Reader or Google . . .